a couple weeks ago, I got a lovely surprise in the mail!
my lovely friend Laura hosted a giveaway at
her blog
, and being a long-time admirer of Benefit Cosmetics, I just had to enter. and what do you know, I won! I could not have been more excited about this. the only Benefit product that I own is their Maybe Baby perfume that I bought when I was
stranded in LA
. she even included an adorable card in the package. she's the best
♥
.
I love all of these products. I was nervous about the High Beam and Stay Don't Stray because I have sensitive skin, but I have had no problems using them. the High Beam has been a lifesaver as the school year winds down. I'm feeling quite worn out and it shows, so I dab it under my eyes and it's amazing. the Stay Don't Stray is a primer for concealer and eyeshadow. I've only used it as an eyeshadow primer, and I love it. my eyeshadow lasts longer, wears brighter, and I don't end up with eyeshadow caked in the crease of my eye at the end of the day. and of course, the Bad Gal Lash is incredible. the brush is GIANT, and it makes me look like I'm wearing false eyelashes. I rarely use black mascara because my skin is so fair, but I have been using this all the time.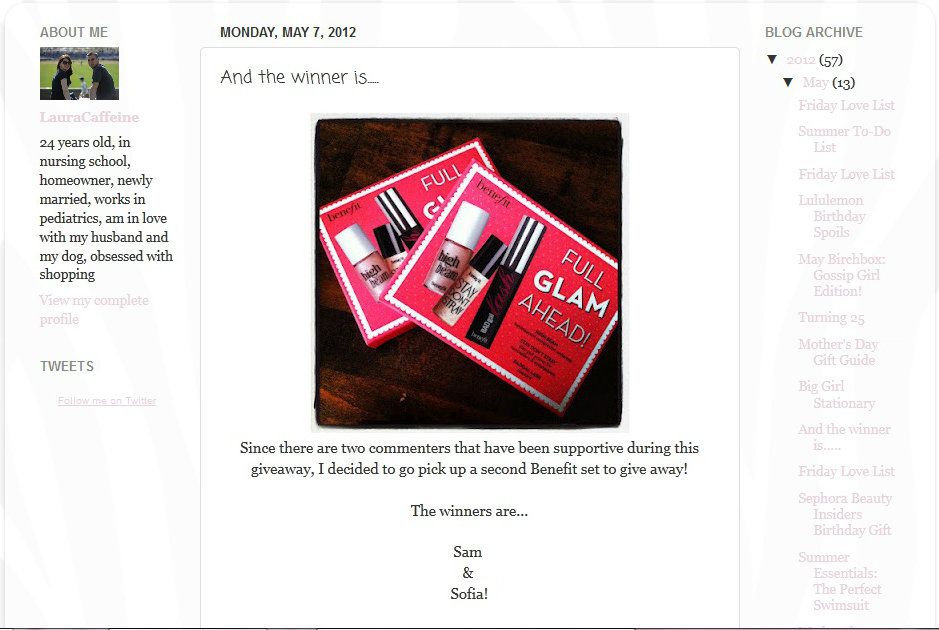 Laura is a sweetheart, and her blog is beautiful and interesting (quite a feat, these days... something I'm still trying to achieve with my own blogs). check out her blog,
Laura Caffeine
!